Model Description
SUPER WIDE
Fat is where it's at. Where the Black Sabbath hit the gym everyday, our Limited Edition Fat Sabbath did two hours of dead lifting then hit town on a search for a Fray Bentos fit. Like Ozzy in those first post Sabbath benders. The Fat Sabbath rolls heavy on super wide and chunky Continental Twin-duro tyres with a whopping 4.00×18 on the rear and front, this is the widest front tyre we do on any of our models, in fact we have to fit an extra wide mudguard to cover it. So if you are bona-fide chubby chaser then maybe this wide load is for you. As with all of our Black Metal bikes, the Fat Sabbath runs all black.
TWISTY WIDE
To accentuate the fat wheels, we opted for slightly narrower and higher blacked out Renthal handlebars and black diamond pattern grips, perfect for hauling this litle stream roller through the traffic or slamming through the twisties. For parking your ass, we designed an ultra thin diamond pattern black seat to match those grips. The seat, of course, is hand made by our guys here in Birmingham.
BARK AT THE MOON
When it comes to colour it really is a no brainer- flat black is how the Fat Sabbath comes, the shortened rear aluminium mudguard is finished in flat black as well as the wider front mudguard. Flat black shocks keep the bike firmly planted on the road and the full stainless steel satin black exhaust system emits that unmistakable deep thump that you will only hear from a Mutt. Black aluminium indicators with dark smoked lenses come as standard along with satin black headlight grill protecting the upgraded halogen headlight and our LED aluminium black tail light up the large posterior of this little chunky beauty.
Other Used Bikes in Stock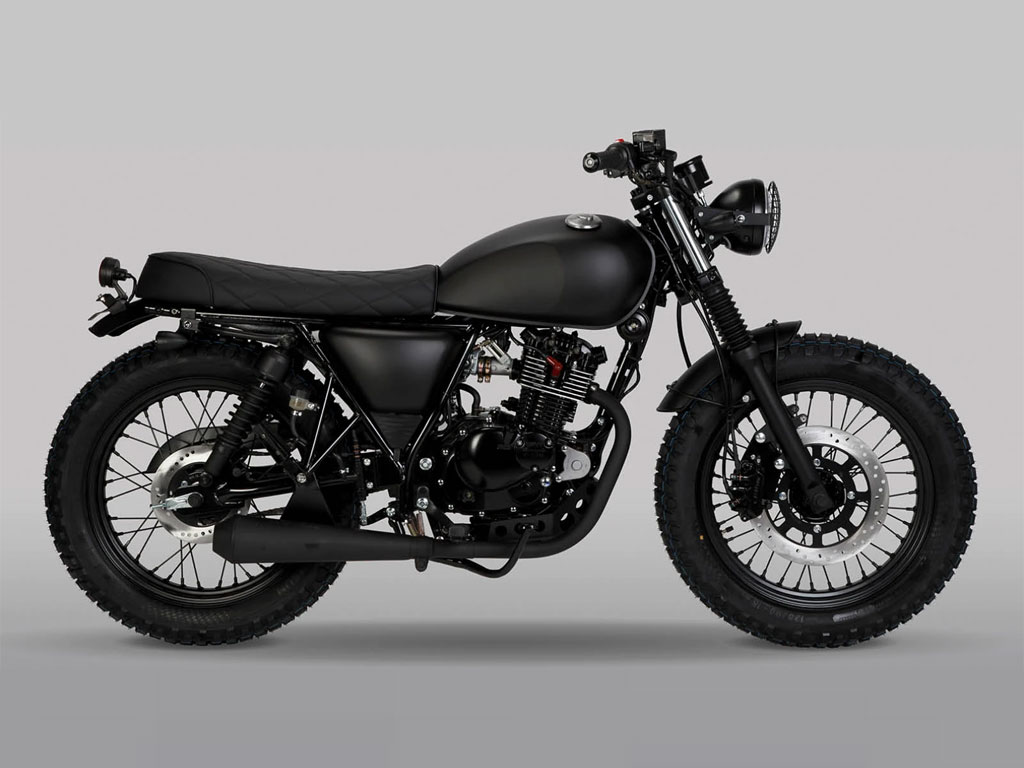 Brand Name
Product Name
Price
Product Availability